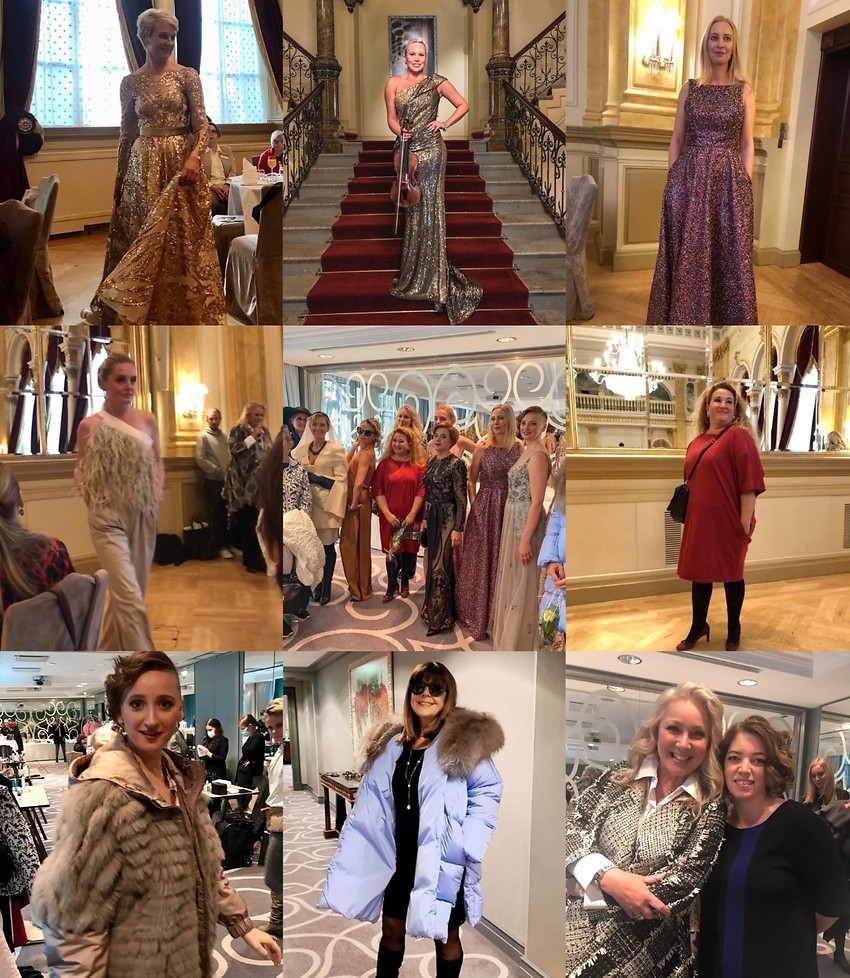 Dear IWCH members,
Let´s stay positive and confident that everything will soon be better despite of the slowly but surely approaching dark and rainy period of the year, and despite of the current Covid-19 status which is punishing the population around the world.
I am so glad that our October luncheon and Fashion Show went so well and that so many of you could attend. The overall atmosphere was nice, spontaneous and inspiring in many ways – I do hope you enjoyed the luncheon as much as I did – thank you!
What a great team we are, our beautiful and elegant models threw themselves wholeheartedly on a catwalk with pride. Great commitment.
Our November luncheon is not a luncheon, it is a breakfast. This is a result of proposals gathered from the member questionnaire last year. I am confident that this will be a great event again.
The November breakfast will take place on 10th of November in Lampas House, Eteläesplanadi 5. Our guest speaker will be Annamari Arrakoski-Engardt. She is a CEO of John Nurminen Foundation and will tell us about our precious Baltic Sea.
Water, sea and lakes are fundamental natural elements of our life. The Baltic Sea is an important maritime gateway for Finland. It has also played an important role to fulfill our needs for relaxation and entertainment. Unfortunately, the Baltic Sea is today one of the most contaminated seas in the world.
The latest registration date is 6th of November.
Please note that traditionally our events are held on the second Tuesday of every month. The remaining meetings for the year 2020 will be:
Tuesday 10 November 8.30-10.30 at Lampas House (Morning Coffee)
Tuesday 8 December 19.00-24.00 at Hotel Kalastajatorppa (Christmas Dinner)
The deadline to register for these events is the Friday before the event. Please note that we must confirm the final number of attendees to the venue on Friday morning at the latest. Therefore, please register before that date and please be reminded that no-shows or late cancellations (after Friday 10.00) will be invoiced.
You are most welcome to participate in our other activities:
Egypt of Glory exhibition on 12 November at 11.30-12.30
Courage, Freedom, Love! The Moomins 75 exhibition on 17 November at 11.00-12.00
Members' Friday Luncheon on 20 November at 12:00-14:00
Brahma Kumaris Meditation on 20 November at 17.00-18.00 & 18:00-19:00
Becoming Van Gogh exhibition on 24 November at 13.00-14.00


Please log in to our member event site for more detailed information and to register for the events.
We will emphasize that it is not allowed to join the events if you feel sick or if you have been travelling in the past 14 days before the event in a country that is not listed as covid-19 safe by the government of Finland.
Please use face masks in all our events.
Stay safe and in good health.
Hope to see you all soon!
Leena