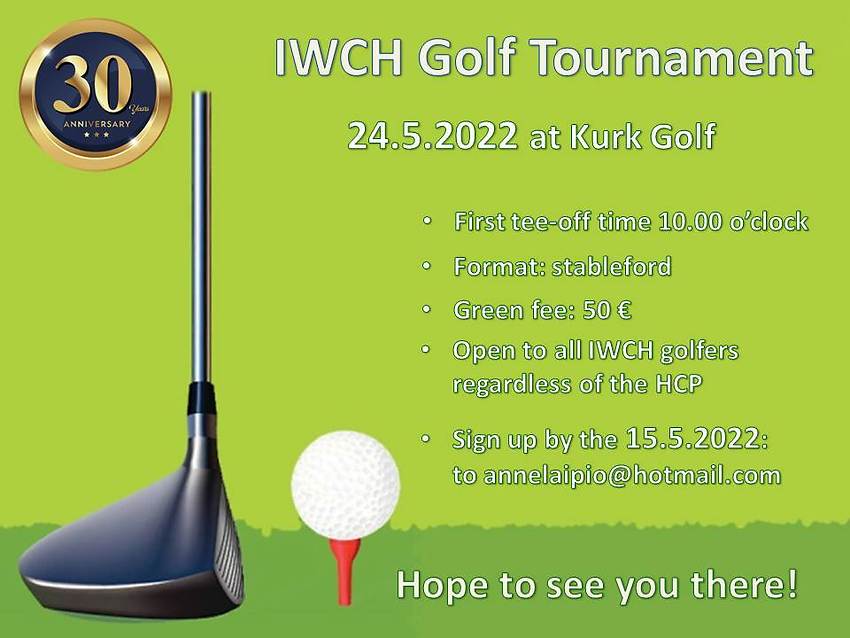 The IWCH golf tournament
This year is an anniversary year for the IWCH Golf Tournament, as the first IWCH Golf Tournament was held 30 years ago.
The IWCH Tournament is held at Kurk Golf on Tuesday, 24th of May, 2022 starting 10.00 o'clock.
The tournament is open to all IWCH golfers, regardless of their HCP, although HCP will be taken into account for the scoring. You can participate in the tournament even if you are not an experienced golfer and enjoy the day.
The winner will receive the IWCH Golf Trophy, which will remain in her hands until next year's tournament.
You can sign up for the tournament by sending an email to Anne Laipio by 15th of May, 2022.
Please add your current HCP and home Golf Club to your email. This information is needed for the caddiemaster at Kurk Golf. The Tournament fee is 50 € per person which covers the green fee and will be paid to the caddie master.
All IWCH golfers are very welcome! Please sign up asap.