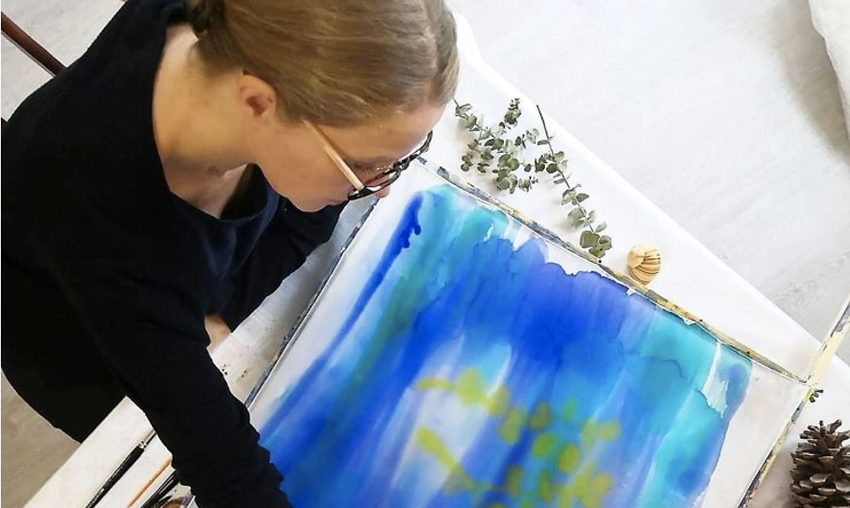 Would you like to experience painting on silk and paint a beautiful scarf for yourself?
Painting on silk is magical. The paints spread and mix on the fabric and you never really know what will happen. Join us for a workshop led by Ms. Ingrid Biese, a researcher, writer and artist who has passion on silk painting and whose greatest inspiration is the Finnish nature and archipelago.
In the workshop you will try the exclusive silk painting which is rather different from painting using other mediums. The workshop is also an experience that goes beyond simply painting. The no-resist technique, developed by the artist, is also an outlook that you can take with you to work or other areas of life.
The workshop lasts for three hours and includes:
- an introduction to silk painting and the no-resist technique
- a 55x55cm silk scarf that you will paint and take home with you
- coffee, tea and some small snacks
- an information pamphlet with a list of silk painting equipment to get you started, framing instructions and other resources
No previous experience required. Anyone can paint on silk!
The Art Place Finland, Raisiontie 11, 00280 Helsinki (Entrance from the street next to the A-entrance)
Maximum 6 participants. A minimum of 4 signups are needed for the event to happen.
Price: 50e to be paid directly to the artist. Normal price is 65 euros, so this is a generous arrangement for our club.
Deadline for signups is Sunday 14.11. No shows will be invoiced.
Members and friends are welcome!
Organizer: Yvonne Westerlund, 050 563 4877, yvonnewesterlund12@gmail.com